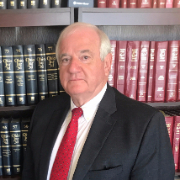 William G. Kendall, Esq., Inactive
William G. Kendall, inactive aka "Sam" Kendall received his undergraduate degree from Ohio Northern University, Ada, Ohio, with Bachelor of Arts, Business Administration. He was awarded a Juris Doctor Degree in May of 1973 from Ohio Northern University, College of Law.
Sam's Bar Association Memberships include (past and present):
National District Attorneys Association

Ohio Prosecuting Attorneys Association

Ohio State Bar Association

National Network of Estate Planning Attorneys

Ohio Loving Trust Attorneys and Advisors Association

Allen County Bar Association

President of the Putnam County Bar Association (1989).
Sam's Bar Association Committees include:
Ohio State Bar Association

Delivery of Legal Services (formerly Pre-Paid Legal Services)

Allen County Bar Association Committee

Chairman of the Municipal Court Committee

Pre-Paid Legal Service Committee

Education Committee

Special Committee for Review of Proper Subdivision

Regulations for Allen County

Law Library Trustee.
He was the former Assistant Allen County Prosecutor and represented County Commissioners, Township Trustees and County Office Holders, Agencies and Boards. Sam was also the former Village Solicitor for the Village of Columbus Grove, Ohio and the Village of Fort Shawnee, Ohio.
Sam's areas of practice include: Estate Planning, Decedent's Estates, Real Estate and Business Transactions, and Trusts.
Sam's representative clients (past and present):
James A. Rhodes State College/Foundation Lima, LLC

Fifth/Third Bank

Grove Engineered Products

A to Z Portion Control Meats, Inc.

West Ohio Food Bank (pro bono).
Providing Legal Services to the Following Communities & Counties

Beaverdam, Ohio

Bluffton, Ohio

Cairo, Ohio

Columbus Grove, Ohio

Cridersville, Ohio

Delphos, Ohio

Elida, Ohio

Gomer, Ohio

Harrod, Ohio

Kalida, Ohio

Lafayette, Ohio

Lima, Ohio

Ottawa, Ohio

Pandora, Ohio

Shawnee, Ohio

Spencerville, Ohio

Wapakoneta, Ohio

Allen County Ohio

Putnam County Ohio

Auglaize County Ohio



© Kendall & Meyer Law, LTD . All Rights Reserved.